COOKING CLASSES BY THE CANAL DU MIDI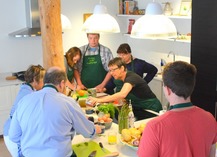 29, Domaine de Millepetit
Telefoon :
+33 6 51 63 29 04
COOKING CLASSES BY THE CANAL DU MIDI
http://www.canaldumidicooking.com
Enjoy a mix of hands-on cooking classes with food and wine tastings and skills demonstrations.
We share timeless methods, useful skills and simple tips to enable you to create classic French cuisine with a modern twist !
Then relax under the shade of the Canal du Midi's iconic plane trees and enjoy the delicious three course lunch you have prepared with perfectly matched local wines. This is an entertaining and informative day suitable for anyone who loves food and wine, and wishes to experience this beautiful region of France.
Our cooking classes and lunch are an ideal activity for visitors to Carcassonne, cyclists & walkers and those cruising the Canal du Midi in Trèbes.
Prices
Min
Max
Omschrijving
plaatsing Rate
125€
COOKING CLASSES BY THE CANAL DU MIDI
Adres :
29, Domaine de Millepetit
11800 Trèbes
Telefoon :
Gesproken talen